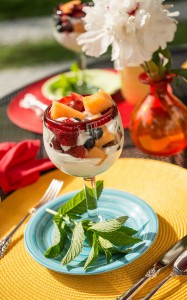 Come celebrate the seasons at Barcelona Lakeside Bed and Breakfast.  Less than one mile from Interstate 90, the inn is located on the shore of beautiful Lake Erie in Westfield, NY, near Dunkirk, where guests enjoy an intimate place to gather with friends, family or a romantic stay just for two.
We offer comfort, relaxation and exceptional service to our guests at our Lake Erie bed and breakfast.  Afternoon tea, coffee and freshly baked cookies greet you at check-in along with your innkeepers, Rodger and Lesley Hazen, as they orient you to the home and property.  One of four lovingly and tastefully decorated guestrooms in our Chautauqua, NY Bed and Breakfast will provide a peaceful, blissfully comfortable rest from your travels and hectic lives.  During hot summer days, sit and bask in the sun on the beach with one of our "Life is a Beach" picnic lunches, beach chairs and towels, or sprawl out on the hammock with its vineyard view.  The covered porch overlooking Lake Erie beckons you to sit and savor a warm summer evening, and our lakeside patio with fire-pit is an irresistible spot to watch the spectacular Lake Erie sunsets.  In winter, snuggle up with a good book in front of the fireplace in the parlor or challenge one another in a friendly board game.
Chautauqua County is rich with activity every season.  The famed Chautauqua Institution in the Town of Chautauqua is a short 15-minute drive from the inn where guests can enjoy an abundance of cultural events during the institute's nine-week summer season.  Wine tours are available year-round from the 25+ wineries located within 20 miles in either direction from us, and the Lake Erie Wine Trail sponsors several wine and food events each year.  Outdoor enthusiasts have Rails to Trails sites to explore as you hike, bike, cross–country ski or snowmobile, and bird watchers will find a number of premier viewing sites as well.
Open year-round, there is always something to celebrate!