Several years ago our daughter was diagnosed with ulcerative colitis and she began a journey of learning how to change her diet to keep the inflammation and resulting problems under control. The medication costs were a big motivator, as they were several hundred dollars each month. As a result, my husband and I began our own journey on changing our diets and, for me, that meant eliminating dairy and gluten.
What we learned along the way is that gluten-free products often contain corn which, for folks who must eat grain-free, creates the same types of problems. We decided that just wouldn't do for us, and we have applied that same principle for breakfasts we serve to guests with special dietary needs at our Lake Erie bed and breakfast.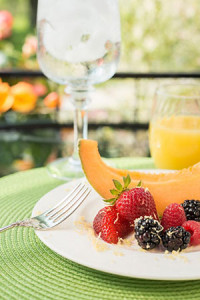 While our regular breakfast menu features entrees with dairy, egg and some gluten, we try to mirror what the regular menu entree is with a gluten-free or dairy-free option for guests who request those options at the time of their reservations. Our ingredients are high-quality, farm-fresh and organic whenever possible. We are rurally located, in the heart of Lake Erie wine country, so it's easy for us to make use of the wonderful fruit, eggs and dairy products in abundance here. Also, we use coconut flour, coconut oil and coconut milk as healthy alternatives to more traditional ingredients.
Our dishes have been extremely popular – from our Sweet Potato Hash with or without Sunny-side Up Egg, to our Spaghetti Squash Quiche and Blueberry-Lemon Muffins made with coconut flour. Our goal is  to take the challenge out of gluten free travel for our guests and make it a treat!
At Barcelona Lakeside Bed and Breakfast healthy and delicious can be decadent!