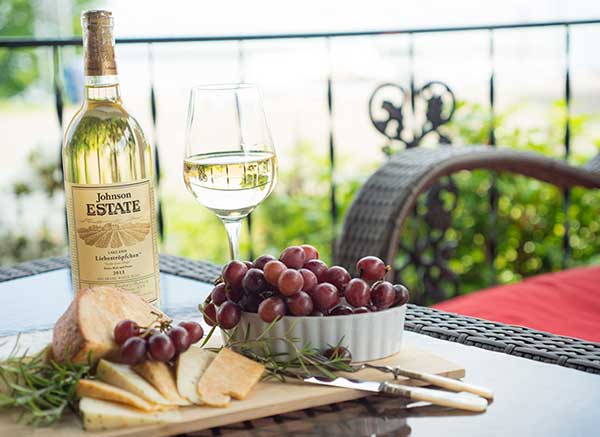 One of the top reasons to visit Barcelona Lakeside Bed & Breakfast is its strategic location in exactly the middle of Lake Erie Wine Country. Reviews from guests frequently comment on how much they enjoyed returning to our Lake Erie inn after a day of touring the wineries, relaxing on the porch or around the fire pit, watching our spectacular Lake Erie sunsets – all while enjoying their newly acquired bounty and the company of other guests.
The region's 25 wineries (at this writing) provide a wide variety of wines appealing to nearly every palette. Most of the directory listings of the wineries approach their identities alphabetically. However, they are located in such a way that makes planning your tastings easiest by using a "regional" approach. This series on Lake Erie Wineries will use that approach and highlight some unique and interesting things about some of the wineries. We begin with the "Central" Region, as it's closest to home.
Lake Erie Wine Country – Central Region
From East to West: approximately 15 miles, comprised of wineries in Westfield and Ripley, New York
Vetter Vineyards – The Lancasters purchased this beautiful 100-acre farm and winery in 2003 turning their amateur wine-making into a successful commercial venture. They produce small batches of high-quality wine, taking care with every step of the process from caring for the vines, bottling, and pouring wine in their tasting room.
Mazza Chautauqua Cellars – the Mazza family is one of the premier wine-making families in the region and innovators in the craft distillery industry here. Their new facility in Westfield combines their Chautauqua Cellars Winery and 5&20 Distillery and will soon feature craft brewing as well.
Johnson Estate Winery – Fred Johnson is the 3rd generation of this wine-producing family, crafting award-winning wines in this original location as has been done for more than 50 years. As the oldest estate winery in the state of New York, they have been earning awards for many years. They currently hold more than 30 Gold and more than 70 Silver Medals from competitions both national and international.
Noble Winery – Pete Noble is an excellent example of an amateur wine-maker and general wine enthusiast who has been able to successfully turn that experience and enthusiasm into a viable business. Sitting on a hillside with sweeping views of Lake Erie, Noble Winery's patio provides scenic sipping opportunities.
Sensory Winery – A unique blending of regional art and "small-lot, highly-blended cult wines." Only 45 cases of each label are produced. With label names such as, Aberant, Defy, and Perdition, curiosity to venture in is certainly peaked.
Quincy Cellars – Housed in a 135 year-old renovated barn, Quincy Cellars' commitment is "Quality without Question." Their historic stone cellar tasting room has ample space with ambience. In addition to tastings, they have a commercial kitchen and an on-site chef for special events such as weddings, luncheons and other banquets.
Lake Erie Wine Country Tour Package
Tastings at up to four wineries
One bottle of wine at one of the wineries
One dessert at participating restaurants
$30 per couple, plus accommodations. $60 retail value.