Generally speaking, there seems to be two types of attitudes toward the winter season – "escape it" or "embrace it." For those folks who hold the "escape it" viewpoint, traveling to us in winter might evoke a certain wariness that the other three seasons don't. Yet, there are winter birthdays and anniversaries to celebrate, and by February, dreaded cabin fever sets in. Very often, during our spectacular summer and fall months, our Lake Erie bed and breakfast guests will ask us, "What's it like here in the winter?" expecting some ominous whisper of how terrible the weather is accompanied by warnings to stay home or consider traveling somewhere – anywhere – else. Certainly, getting here can be a bit more challenging at times, but those times are really infrequent, if the truth be known.
My answer to their question is always the same, "Winter here is every bit as beautiful as it is now, just a different kind of beautiful." I'm an "embrace it" kind of person, and I answer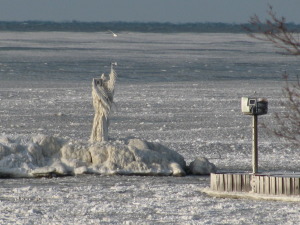 from my mind's eye as I see the ice sculptures that form from water crashing up over the break walls of the harbor and freezing during the month of January. I see bright white as far as the eye can see as I look out over the lake when it's "frozen" over and feel transported to the Arctic Circle. I see bright sunny days when the sky is so blue that it hardly seems real, and snow sits undisturbed, glistening in the sunlight, waiting to provide some lucky person a portrait of nature that isn't available in the same way any other time of year.   Winter birds such as Snow Buntings, and cardinals, and over 20 different mammals such as Red Fox live here. One very special way to experience the magnificence of our winters is to "Snowshoe Chautauqua."
Snowshoeing to me is a bit like running, in that you really don't need a lot of special (read: expensive) equipment to enjoy it. All you need are snowshoes and appropriate clothing – nothing else! I like that.
If New York snowshoeing is something new for you to consider, then I would recommend reading this Snowshoe 101 course that will familiarize you with the sport and its few essentials.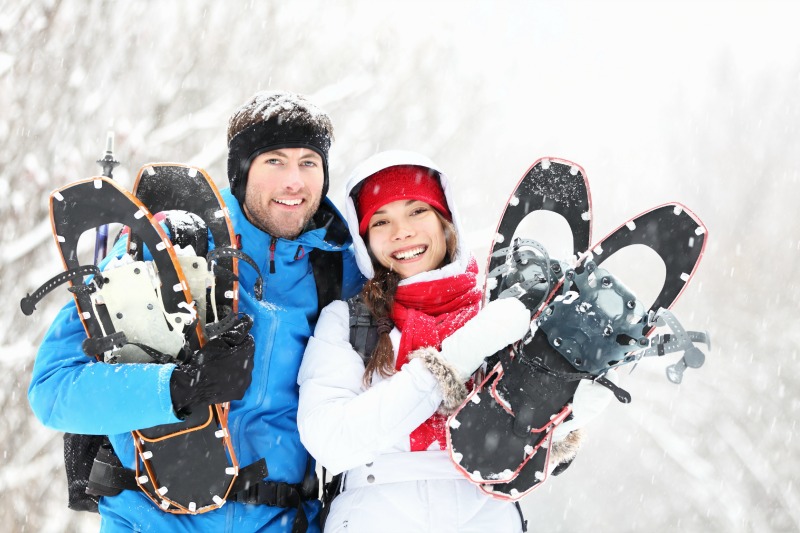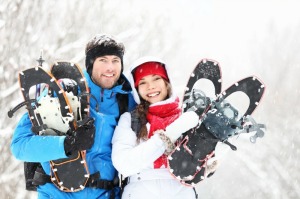 If you are ready for a new challenge, or already know and love the benefits of snowshoeing, then join us in Upstate New York. Come weekdays or weekends all winter long.  When you do, you will be amazed at how many other fabulous things there are to do. Apres-snowshoeing treats await you, fireside, back at the inn, along with wine tasting, romantic sleigh rides, ice festivals, live theater, concerts, art, museums, and terrific restaurants – all nearby. So, why not try becoming an "embracer" of winter? Come celebrate with us and experience the different kind of beautiful that is winter here in Chautauqua County.